Friday September 21st, 2012
Class Notes:
Week #3
*Should always hand in grade ready work!
-Finish assignment a few days before due date giving you time to review it
-When reviewing look at content and formal requirements
APA Style Assignment
Content:
-No history
-2-3 features (*Be careful when deciding what main features are! Which features are the most important?/What do you need to know the most?)
-Example
Formal Requirements:
-400 words (*401 words is too many!)
-2-4 paragraphs
-12 point font
-Times New Roman
-Double spaced
Peer editing
-Learning your own self editing
-Constructive (Help each other make a better paper)
-Objective neutral when reading paper
-Look and identify what needs work but NEVER write on the text of another student!
Did peer editing in class -> Exchanged with a partner, on the back drew two lines to create four quads
Q1: Grammar and Mechanics
-Spelling, punctuation, run on sentences, etc
Q2: Content and Structure
-Missing info, facts not correct, not right order, conclusion, etc
Q3: Paragraph for Revision
-Which paragraphs need work
Q4: Full Revision
-Does the paper need a full revision? Yes or No
*Conclusion: Should be conclusive, don't repeat introduction, error if "squashed" because you run out of words
-----
Short Document Style
Upper left:
[Name]
Same line, on right side of paper:
Pages 3 [Or whatever the total number of pages is]
(Enter)
For: [Profs Name]
Same line, on right side of paper:
Words: [word count]
(Enter)
[Date]
Enter twice, known as "slug" (Enter)
(Enter)
Title
(Enter)
(Enter)
Main text begins here!
*Title: Centred, don't change font, size, do nothing to distinguish from the rest of the text

*Indent each new paragraph. Each new paragraph goes on the next line, do not create a slug when new paragraph begins
*Times New Roman, 12pt, double spaced!
----------
Narrative:
Story
-Beginning, middle, end
Narration
: The telling of a story
Narrator:
Story teller
-Voice that tells story, not the author
Narrative Voice:
1st Person
-Interior voice
-Inside single head
-Intimate (Reader feels close to the person, sees world through their eyes)
-Limited (Can only write about the characters thoughts/experiences)
-"I, me, we"
2nd Person
(Don't use)
-Problem of convincing reader
-"You"
3rd Person
-Broad reach, knowledge of everything (omniscient)
-Unlimited (Can go into anyones head, can go anywhere)
-"Them, he, she"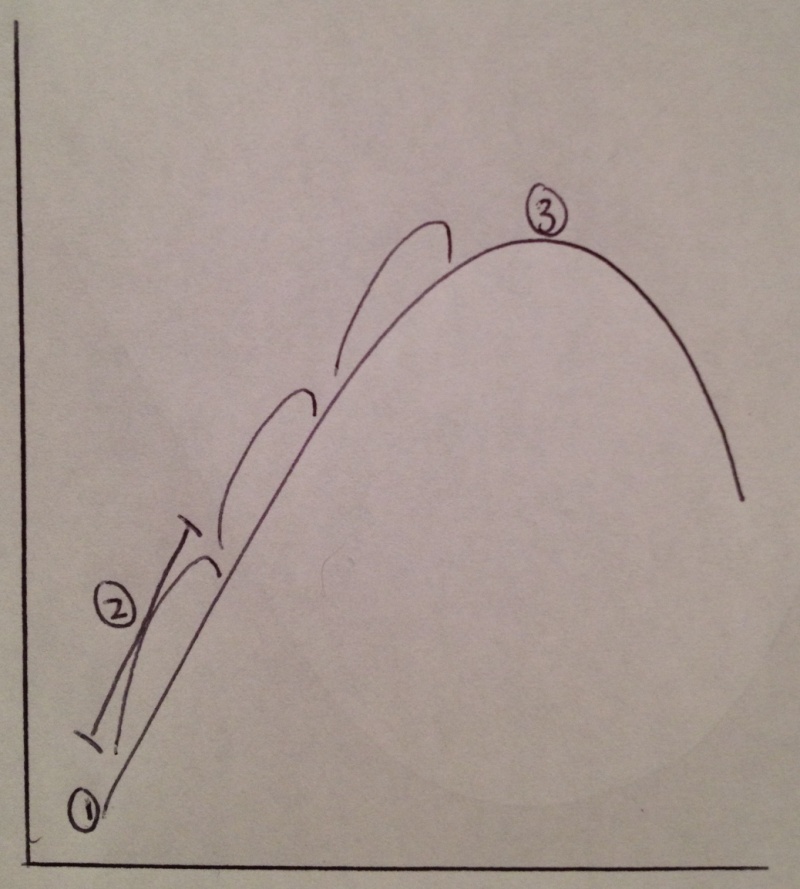 Vertical Line: Interest of viewer as it unfolds
Horizontal Line: Time (Time it takes to consume story)
Story begins by establishing 'status quo':
-Establish characters
-Establish life of characters
-Explain relationships
(1)Complication:
-Starts story
(2)Beats of a story:
-Increases interest of reader
-Series of development of the complication/new complications
-Leads readers to climax
3)Climax:
-Story breaks
Establish new status quo:
-Tie up lose ends
-Establish new norm for the characters
-------
Narrative Essay:
-5-7 paragraphs
-Word count of 1000 words, plus or minus 20 words
-Due week 7
-Combine fiction and real life for your story
*Plan your work carefully!
Proposal:
-Short document style
-1 Paragraph, 8-10 sentences
-Clear and concise
-What is the story about?
-Content of story (Beginning, middle, end)
-Use of which narrative voice and why?
-Establish main characters and relationships
Due next Friday
(Friday September 28, 2012)!
-Small group meetings
-20 minute meeting, not full class
-Check 'Calendar' to see schedule (What group you're in/what time)
-Arrive ten minutes before your scheduled time to read other group members proposals