Self & Peer Review, Mechanical Errors and Narrative
Derek began by having us all take out our APA Assignments for a peer review. He first had us look at our papers and evaluate if they were Grade Ready. There are two stages to completing and assignment that many students over look.
-
Planning the assignment:
effective time management
-
Revising the assignment:
leave yourself extra time for review
Formal Qualities for Grade Ready Assignments.
Length: - word count or paragraph number should be included if asked for.
- the required word count is a marker for how much time an assignment will take to write. learn how long it takes you to write.
Font: 12 pt. Time New Roman
Always double spaced. Helps Derek's fragile eyes

and allows room for edits, notes and peer/teacher corrections
How to use the Quad System for peer review
Make a 4 quadrant grid on the back of the paper. Each quad is for a specific task. Starting from the top left and moving clockwise:
1) keep a tally of any Grammatical/Mechanical errors you find
2) the number of any paragraphs that need correction regarding their Content/Structure
3) Yes or No: Does this essay require a full revision? Could be 15 minutes to fix multiple G/M errors or a complete rewrite
4) the number of any paragraphs that require a full revision
Peer Editing
- tips
- Never mark another student paper, use quad system on the back.
- Do not let another student edit your paper directly, eg. don't have them sit and revise your paper in a word document.
- Everyone writes differently and another student could put their spin/style onto your work. This could mean that YOU are plagiarizing!
- Read Slowly
- Most frequently the final paragraph is the weakest. Students rush to conclude or simply repeat themselves.
- Refrain from empty comments such as "needs work" "looks great"
Mechanical Errors
Homonyms - we cannot spell check for these.
There - a place, directional
Their - infers possession, "heir" built into the word
They're - just use They Are and avoid contractions in academic writing
To - going to, to do
Too - Too many, too <-- too has too many o's
Two - is a number
Tow - spell check and even a peer or self edit may miss this.
its - possessive
it's - just use It Is and avoid contractions
Here is the format for all future assignments (unless they are specified as being APA)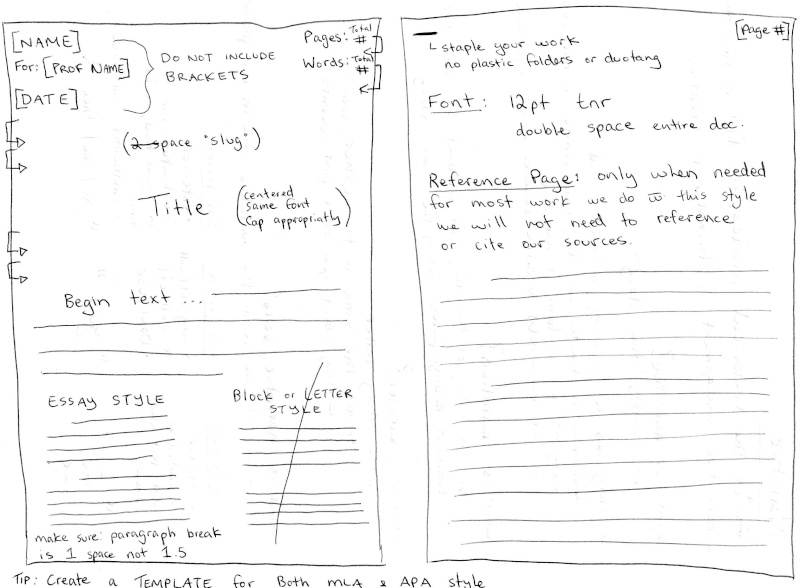 -------------
Narrative
- second of the rhetorical modes, the first is descriptive
- narrative assignment is formal NOT creative
What is
Narrative
?
- it is simple "the story"
- a story has a beginning, middle and end
- existence is finite, we all die, this creates the narrative perspective
- we use narrative(s) to define ourselves and our experience
What is
Narration
?
- it is the telling of the story, an incident of narrative
- eg. different biographies telling the same story
What is a
Narrator
?
- it is the story teller
- not the same as the author, even if you are writing about your own past events
What is
Narrative Voice
?
- it is how we create the narrative voice in our work
1st person - Interior voice. Limited to what that character knows. "I, Me, We"
2nd person - Very difficult to pull off. Avoid. "You"
3rd person - Exterior perspective. Unlimited - can be in anyones head, shift time and is all knowing (omniscient) "He/She/They"
This is a graph of the narrative progression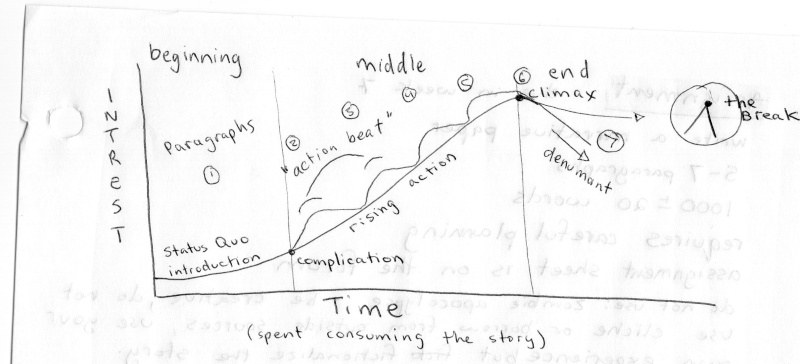 Status Quo
establishes characters, what life is like for them and relationships between characters.
Complication
throws off the status quo and creates rising action. Stories tend to have multiple complications (action beats)
Climax
we experience a conclusion to the rising action, "the break", and our interest begins to fall
New Status Quo
what life is like after the complication is resolved. Stories can return to the original status quo but these tend to be unsatisfying.
---------------------------------
Assignment Explanation - Due in week 7
write a narrative paper. 5 - 7 paragraphs & 1000 +/- 20 words in length.
Requires careful planning. Assignment sheet is on forum.
Do Not Use: Zombie Apocalypse. Be creative with your subject matter, try to avoid cliche or borrowing from outside sources. Use your own experience but fictionalize it to increase the action.
Marks - 5 marks in the Content - 15 marks in the Formal Presentation
For Next Week
Write a proposal paragraph in MLA that tells the beginning, middle and end of your story.
Identify the character(s), which narrative voice you will use and why.
Should be 8-12 sentences.
If changes are made to what is in the proposal you must let Derek know.
Check group appointment for your meeting time next class & arrive 10 minutes early to peer edit.